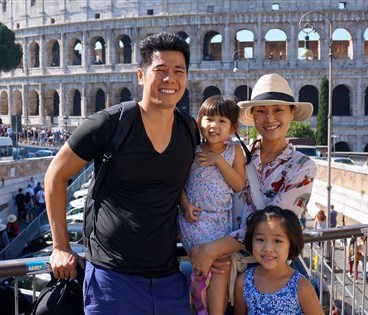 How This Family of 4 Traveled Across Europe for 75 Days
Traveling with a family can seem like a daunting task, especially the costs associated with taking a trip. That's exactly why Cliff Hsia, writer and creator of LiveFamilyTravel.com, recently took to his blog to break down exactly how he traveled on a budget with his wife and two children for 75 days in Europe this past summer.
"I know money is a huge fear factor for families when it comes to travel," Hsia told TODAY. "The purpose of my post was to really help people conquer those fears by showing them the details of exactly how much we spent."
His family's grand total came to $16,000, averaging out to $213 per day, or $53 per person, per day and this isn't the first trip he's taken. As a family of four, they've traveled to 18 countries for approximately 20 months total since 2012. His daughters ages 6 and 4, have even gone to local schools in five foreign countries (Guatemala, Taiwan, China, Thailand and Spain) for one month to three months at a time.
By: Jordi Lippe-McGraw